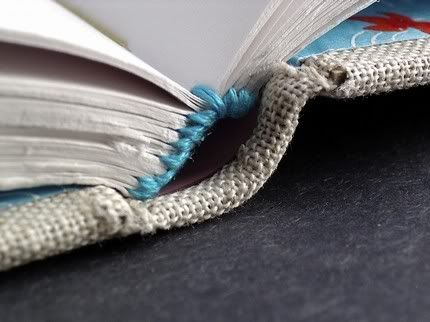 I was recently browsing around in the "Books" section on Etsy, and found a book by a fellow BEST member,
Meowstro
. I was intrigued by something I saw in the description and pictures... the book had hand-sewn headbands.
The only headbands I'd ever seen were the kind that you glued on... what I use on my own books. I'd never even realized that they could be sewn on yourself!
So I looked around a bit online, and discovered that headbands were originally sewn on to support the spine and protect the pages from damage, and were an integral part of the book. Nowadays, bookbinders tend to use glue on headbands, which serve a more decorative purpose. But even these can be done in different ways, such as sewing them separate from the book, rolling your headbands, or simply purchasing them ready-made!
You may find a more thorough definition of headbands
here
.
For a quick tutorial of how to sew headbands directly onto your book, check out Laura's
bookbinding blog
!
Want to sew your headbands separate from the book? Take a look at
this TJBookarts tutorial
, along with some informational links at the end!
To see how you can roll your headbands, check out
this other TJBookarts tutorial
.
Prefer to purchase some ready-made headbands? You can get them at a variety of B&M shops, as well as online at places like
Talas
.
Or if you'd like to make your own headbands and need some supplies, here is a link for
twisted silk thread
to start you off, as well as a
Headbands Manual
!