submitted by Green Chair Press/Susan Angebranndt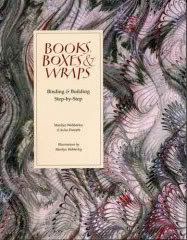 My friend
Cathy
teaches book arts to kids all over the San Francisco Bay Area. I asked her recently if there were any good bookmaking books specifically for kids. She said the pickings were slim and recommended some general books, including one I've long had on my book shelf:
Books, Boxes and Wraps
by Marilyn Webberly & JoAn Forsyth (Bifocal Publishing, Kirkland, WA). Cathy says "while it's not specifically about bookmaking with kids ... it has great illustrations and clear directions."
What I like about the book are the material lists and generalized formulas for almost every book, box or wrap the authors describe. As an example, for a wrap-around cover on a multi-signature book, the formula is

Cover, cut one

H= book block height

W= 2 times block width + 2 times spine thickness + ease + front flap width + 5/8" turn in.

Before starting in on a model, I've double-checked my own calculations against the formulas in the book.
Another plus are the number of boxes and wraps detailed in the book (which is the reason I bought the book originally). It's good for inspiration as well as instructions. And, as an added bonus, there's a section on knots and closures (my favorite: How to make a "chinese ball button" out of cord) as well as tools.