Name:
Vicki Holdwick
Company/Etsy Site:
vfh Photo Arts/
vholdwic.etsy.com
Blog:
shawcreek.blogspot.com
Location:
Pleasant Lake, Michigan
How long has your Etsy shop been open?
I've had an Etsy shop since early March of this year.
How did you get into crafting?
I am been crafting since a very early age. My godmother taught me how to knit slippers when I was only 6 or 7 years old and one year I made a pair for each of my siblings (I have 8 sisters and 5 brothers, so this was no small feat (pun intended)).
How did Etsy come into your life?
I subscribe to almost 200 blogs and many of them mentioned or showcased Etsy products and artists, so I investigated and liked what I saw, so I opened my own shop.
What was your involvement in the crafting world before stumbling upon Etsy?
I didn't go to college until I was in my mid-30s which meant that with two children we became only a one income family, so out of necessity I started to sew my own and my children's clothes. From there I began making my own duvet covers, window treatments, quilts, shower curtains. I find that I tend to concentrate on one kind of craft and then go on to another. After my sewing frenzy, I moved onto cross stitch and then to crocheting. I began making books several years and fell in love. At that time I only made accordion books.
Do you have a day job?
I retired last year from teaching mathematics at a rural high school.
Tell us about your shop: Does anyone help you?
My shop is really small right now. I have some prints, photographs and a few accordion books. I am trying to perfect the coptic stitch before offering that style. No one helps me with my work, unless you count my husband's patience when I disappear into my craft room for hours on end.
What advice would you give to newbies on Etsy or in the crafting world?
Trust yourself and turn off your inner critic whenever possible.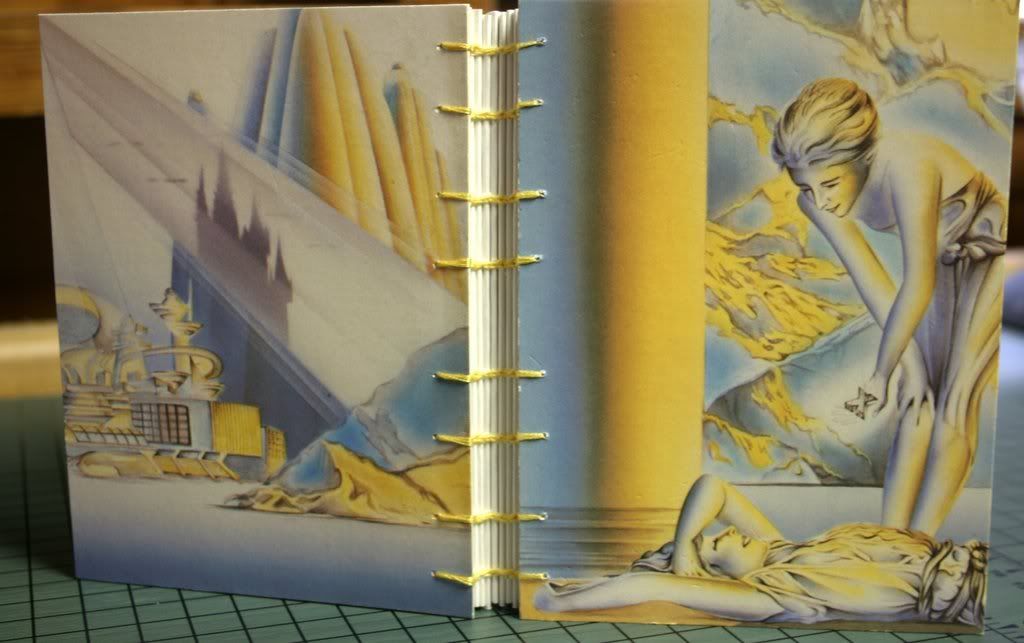 What's the most challenging part of your crafting?
Right now it is really difficult to find time to do what I want to do. My three grandchildren live within 20 minutes of me and I care for two of them three days a week, one of those being an overnight.
Do you show your work locally?
I have participated in a couple of craft shows with limited success, but haven't tried lately.
Famous last words?
Don't get even, get odd.
How did you get interested in bookmaking?
I am always drawn to journals and sketchbooks in the store, but they seem too plain or too expensive and I thought, "I could make those better than these".
How long have you been crafting? Bookmaking?
I've been crafting for as long as I can remember. I've been bookmaking for about 8 years.
What is your favorite stitch/technique?
So far I really like the coptic stitch, but would also like to learn the long stitch and secret Belgian binding. I would like to feel confident enough to make a book with a leather cover.
What is the one tool or supply that you couldn't live without?
I absolutely couldn't live without my bone folder.
Materials you use for your books?
I am on a kick of seeing book covers everywhere I go - 33 1/3 rpm record jackets, cereal boxes, tins. Right now I am trying to combine mixed media art with book making by using book board that is painted, decoupaged, collaged. I also use watercolor and acrylic paints, pretty scrapbooking paper, PVA glue, and found treasures.
What inspires you?
I find inspiration in the everyday and never fail to be surprised how often I see something in my surroundings that gives me an "uh huh" moment.
Who is your crafting hero?
There are too many - right now I am seeing a lot of Suzi Blu videos (she's a nut, but very loveable), Claudine Hellmuth, Kal Barteski. I recently joined two new Yahoo! groups - arttechniques and milliandecreativityclub.
Guilty pleasure?
Staying up into the wee hours creating and then getting up at the crack of dawn raring to go with new ideas.
submitted by Barbara, of moonbindery