Welcome to today's BEST blog interview with Veterok. Located in Vesilahti, Finland, Veterok makes all things book related - even some of the tools that are used! Educated as an Artisan Binder and currently studying a specialist degree, find a gorgeous collection of her hand bound books for sale under the label Veterok on Etsy.
You currently make your home in Finland, despite traveling quite a bit. What draws you to that part of the world and how, if at all, has this affected your bookbinding?
Finland is my home country. It's good to be a bookbinder in Finland, because there aren't that many: I have gotten to know a circle of great people, and word about events and classes travels around quickly. I guess I have learned from the English, German and Swiss bookbinding traditions because of my location.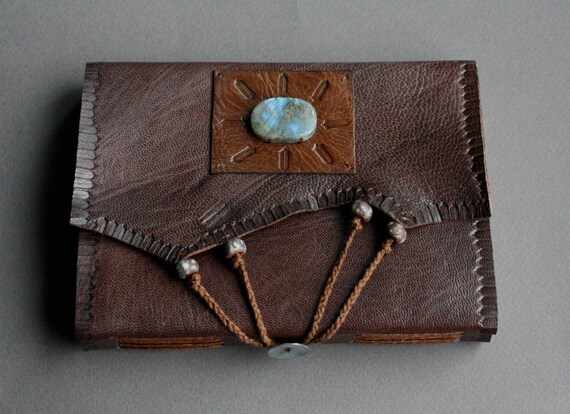 I do also see how my location influences the way I see my work. I was raised in the countryside so I have developed a familiarity to everything nature-based. It might serve to explain that to me nature is not always that green thing "with flowers and trees and stuff;" I am more familiar with the seasonal textures, colours and traditions, bare fields in late autumn, the illuminated lakes in summer nights, and the endless dark snow-muffled days of winter. This all shapes one's sense of the world a great deal, so it shows in my philosophical and visual approach to the creative work. I also love to travel a lot, because I'm very interested in cultures and it feeds my imagination, better than any other activity.
You mention that you are educated as a bookbinder and also currently studying for a specialist degree in bookbinding. Tell me more about your journey as a student and your philosophy on learning.
I began in 2007 as a full-time bookbinder student. However, tiredness and confusion got in the way and I quit for a few years, continuing binding on my own. This was actually a great move, because I can see I was in need of some quiet and private time to ponder on my idea of bookbinding.
I went back and finished my degree in 2011, when I also had the chance to start studying the specialist degree. I had found my missing passion for bookbinding and it was easier for me to continue because I already had some grasp about what and how I wanted to learn. I believe that in order to successfully learn something one truly must be enthusiastic about the subject. If the subject is not dear to you in one way or another, why would you spend time learning it? This is important to me as a learner.
As of spring 2013, I have finished my proofs and graduated as a bookbinder artisan while still continuing with my specialist degree. Personally I have found the combination of free alone time, independent studies and evenly scheduled hands-on tuition at the school very good.
The books you create are beautifully designed and made. Do you consider these pieces to be art or craft? Is this something that is important to you?
I personally do like to make the distinction between "crafts" and my work. I don't, for example, fancy the idea of my books being categorized under "paper crafts." Paper is, although obviously important, rarely the defining aspect in my books. "Paper crafts" isn't a bad thing by itself, but it doesn't convey the idea of an established line of products made by skilled professional craftsmen either.
Art to me has always been an empty word, so it's hard for me to consider my books to be "art" either. I have tried to learn it though, so that I can communicate with people! It feels quite odd to call yourself a book artist when it all sounds quite meaningless to you. I guess I prefer to be a maker of objects.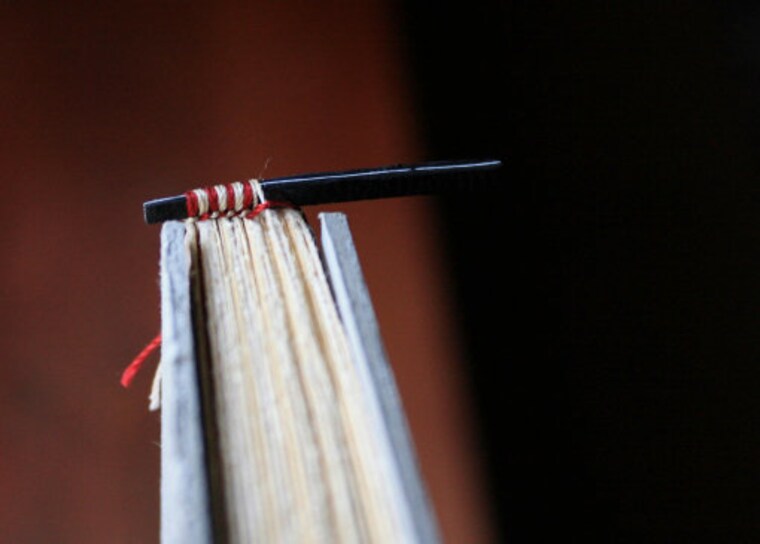 I'm a very big believer in craftsmanship, especially in the Arts and Crafts movement, which in its time produced a myriad of everyday objects of wonderful beauty. I like the idea of creating something that is practical, solid and meant for use, yet with such design and attention to material and detail that it rises above the mundane. In Finland there was the Jugend style, which was characterized by fantastic artist-designed and artist-made furniture, wall hangings, cutlery and home textiles. This is the holistic approach that I like a lot.
There is a common theme through all your social media and on your Etsy shop showing how much you appreciate slow living and traditional skills such as bookbinding. This seems like a lovely and serene way of life. How and when did it all come together like this?
I'm very glad that it shows through - it's very important to me as a maker of objects (!). I'm very home oriented and I need to identify with my surroundings in order to get in the zone. It's in my nature to take much delight in solitude and calm, but I also tend to get easily distracted and then I have a hard time finishing projects. I have always based my life on the belief that I am at my best when I can do as much on my own as I can. All traditional skills and crafts feed each other and benefit from each other, and I'd love to learn to combine them in my work. Having a good set of basic skills (instead of buying readymade, or outsourcing work) also saves money, which I can then invest on tools and materials. I have also learned to make some tools myself, such as brass hand tools and paring knives. I can also see myself turning into a wilderness hermit in the future...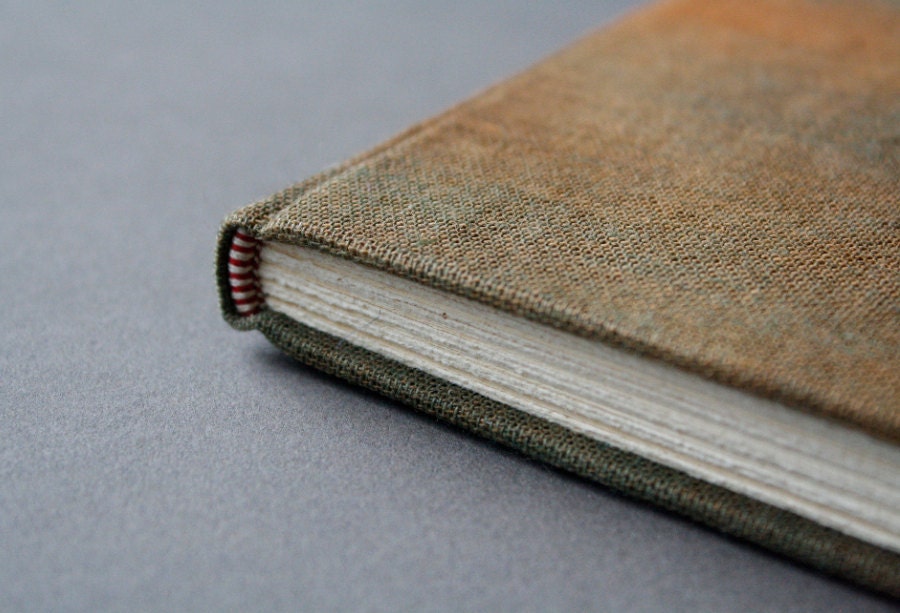 I really appreciate your love of using organic and earth-friendly materials and processes whenever you can. What advice can you give other bookbinders in this regard?
I find organic, natural materials more interesting and comfortable than synthetic and processed ones, but there's also an environmental aspect in it. I think the choice of material is especially important in leather - not only because most tanning processes produce leather unsuitable for bookbinding but also because you can't buy cheap leather and expect it to be produced in eco-friendly and animal-friendly way. I try to buy from companies which have long traditions and which provide me with sufficient information on the material.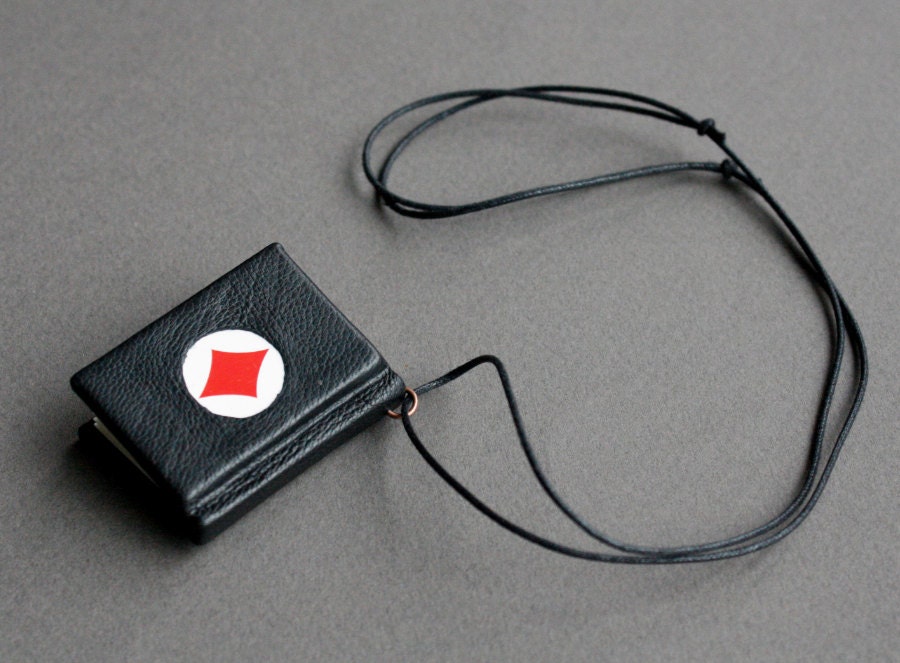 Some binders shun everything that is not archival. Recycled materials are rarely archival. In this case one often needs to make some amends: Is it important for this book to last hundreds or thousands of years, or will sixty do as well? In many cases you're binding something just for fun, or for everyday. I sometimes use recycled paper for it has a colour and grain that pleases me. Many binders like to stain paper with tea or coffee and use gray, pulpy millboard because it is easy to find. None of this material is archival, but will still last years in a well-made book.
I wouldn't consider myself to be an expert either; I just have a lot of opinions. But these are the few things that I live by and they have often proved useful to me!